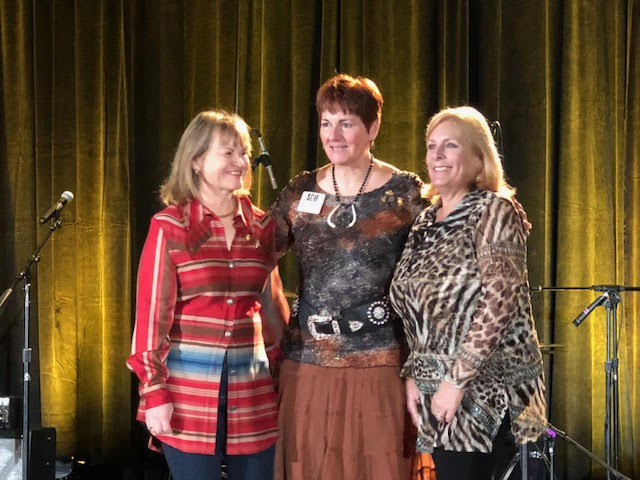 1st place Denver Sables
2nd place San Francisco Sables
3rd Place Adirondack New York Sables
Denver Sables won first place in the Stars Competition !
Our prize is a desert eagle 1911 C.45 ACP  "C" pistol 4.33 – inch barrel. 2  8 round magazines with extended base pads for positive magazine insertion. Includes skeletonized hammer , extended thumb safety, checkered , flat mainspring housing made from aluminum, stainless steel full-length guide rod.
We will sell this gun at our fundraiser.
Thanks everyone for all of your support !
Mary
The Denver SABLES won the 2015 Stars Award from SCIF – Sables for their recruitment of new members, funding of education projects and education outdoor adventures for the members. Last year this group won second place so we moved up! Thank you to everyone who participated in our activities, donated to our education projects and continued or upgraded your SABLES memberships! We do make a difference to keep our hunting heritage for the future!
Susanne Roller was the recipient of the Denver Sable of the Year Award for 2012-2013. She was awarded a beautiful pewter casted Sable, titled, "Sir Sable", by Rudl R. Mergelman that represents our outdoor heritage.  Susanne has been a strong supporter of the Denver Sables by helping and attending our events and activities in spite of a very busy schedule.  She is always available to help whenever we call, which we do many times for advice.  Susanne and her husband, Bret, have 3 young children and Susanne works for the Elk Foundation. She is also the programming volunteer with the college student program, WAEI.  (Wildland Awareness Educational Institute). If you have never heard her Elk lecture, it is a must!  Some of you know her from the Colorado Becoming an Outdoor Woman Program  (BOW) and that is where "Sables ' and "Safari Club International " became part of her vocabulary. Susanne is adamant about "teaching the next generation to hunt, fish, live in and enjoy the great outdoors". That quote is taken from the Sables Brochure and if anyone fits the description, it is Susanne.   I had the great pleasure of presenting this award to her and we are honored to have her as a member of the Denver Sables Committee.
Mary Predovich
President, Denver Sables